The Homes of the 2016 Parade of Homes
We would like to introduce you to the 2016 Parade of Homes! This year we have 13 homes from our LABA Builders, the City of La Crosse and Western Technical College.  This is a great time to get ideas, meet builders, and see some of the newest and best products and technologies that are hitting the market.
Our builders and associates are all excited to meet with you and help you develop your plans and dreams and work towards making them come true!
Click through the homes and check out what is in store for you! CLICK HERE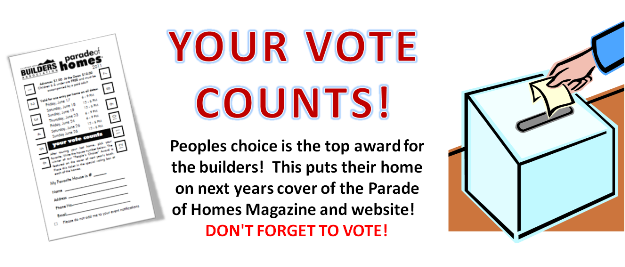 When you purchase a ticket to the annual Parade of Homes, you take on an important responsibility. One of the highest honors a LABA Builder Member can receive is to have his or her Parade entry named "People's Choice", and you have the power to make that happen.
Here's how to cast your vote for the "People's Choice" Award:
Purchase your Parade tickets in advance of Opening Day for just $8, or at any Parade Home during the Parade for $10.

Visit as many of the Parade Homes as you like. Your ticket will be punched at each home you visit.

When you are finished with your tour, indicate on your ticket which home was your favorite, then deposit the ticket in the boxes provided at each home for this purpose.

If you like, provide your address and email information so we can make sure you stay on our mailing list to receive notification of upcoming Parades as well as the LABA Home Show held at the Onalaska Omni Center.


Find out which Builder won by keeping an eye on the news media,

Facebook

or by visiting this website.
2015 Parade Homes: